Olex2 is an easy-to-use program containing everything you need to solve, refine and finish small-molecule crystal structures using an intuitive user interface, honed over ten years of development.

For Crystallographers
Constantly updated and keeping in touch with evolution of the crystallographic toolbox, Olex2, provides both maximum functionality and a clean, intuitive GUI to work with.

For Chemists
From structure solution and refinement to the creation of images and even animations out-of-the-box - Olex2 has it all!

For Students
Discover the wonderful world of the chemistry at a molecular level. Visualise molecules, and start learning how to obtain molecular structures using Olex2!
Everything is visual!
Work with small-molecule structures the easy way. The Graphical User Interface allow for unprecedented ease with which to manipulate structers and build the best possible structure models without the need to know too much jargon.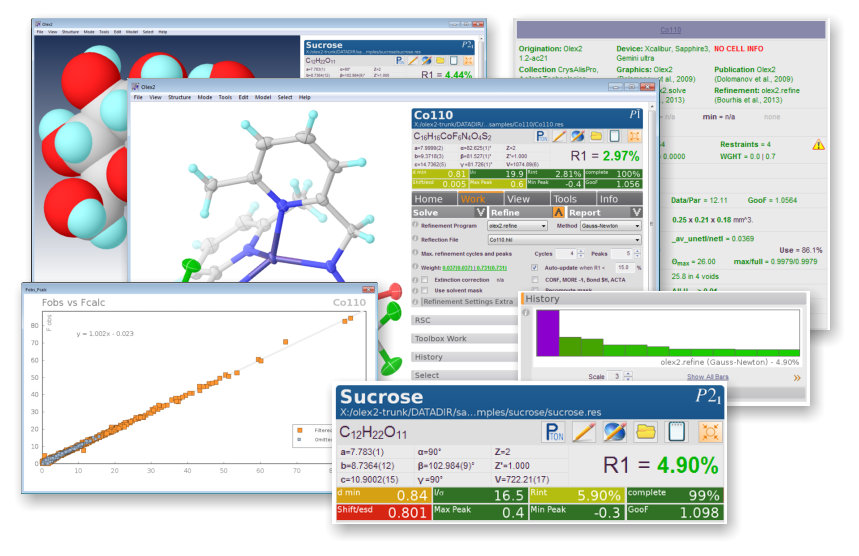 Free to Use
Olex2 is completely free to use for anyone. There is no catch here – whether you are in industry, academia or a student, it's free!

Open Source
Olex2 is open source – all our code is available for you to look at, check and – hopefully! – extend. If you would like to contribute to Olex2, please let us know.

Extensible
Olex2 can be extended using macros, python scripts or extension modules. Extension modules are easy to make and we have a selection of useful extensions available for paid subscription.